Tasman Glacier, the largest of New Zealand, offers to its visitors a beautiful sight.
Ice blocks collaps from its southern face, and remain afloat in a dark gray lake. While walking around the lake, these icebergs give us an image of a polar excursion
The visit will continue up to the Pukaki lake, an attractive place of this glacier valley due to the turquoise color of the water.
The Tasman glacier Location
The glacier:
Tasman glacier lies at the Aoraki/Mount cook base.
It's a 20 kilometers long glacier, and the thickness is up to 600 metres.This scope make it the biggest glacier in New Zealand.
20,000 years ago,Tasman glacier encompassed other glaciers, like Hooker, Murchison, Muelle, and formed an ice tongue of over 115 kilometers long.
It is this ice tongue that dug the contours of the valley, allowing Pukaki lake and Tasman lake to appear gradually as the glacier surface decreased.
The Tasman glacier topology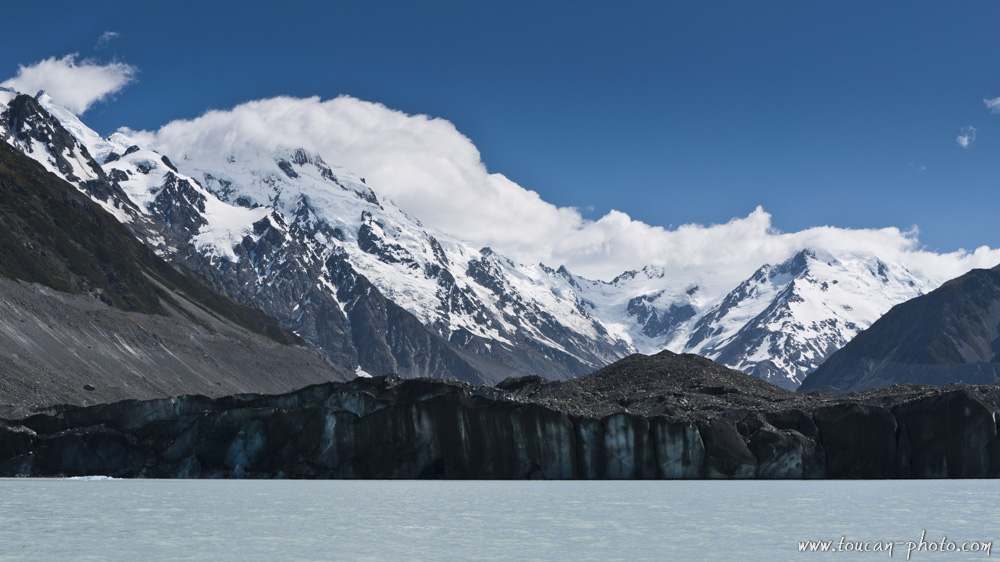 The front of the Tasman glacier, and the Tasman lake at the base

A sight of Tasman lake. The glacier is on the left
An Iceberg factory:
Tasman Lake is located at the glacier base
The glacier fragments fall into the lake, and take the appearance of large icebergs.
Because the temperature of the lake water does not exceed two degrees Celsius, the icebergs melt slowly.
Only 10% of the iceberg is visible, the rest is under water surface.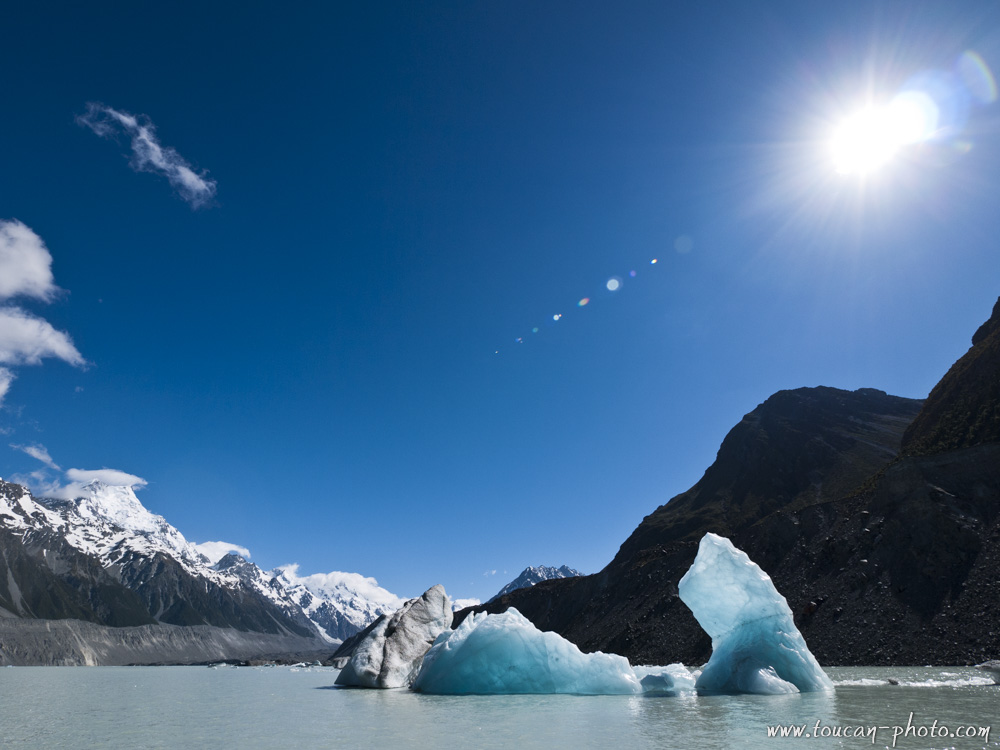 Drifting icebergs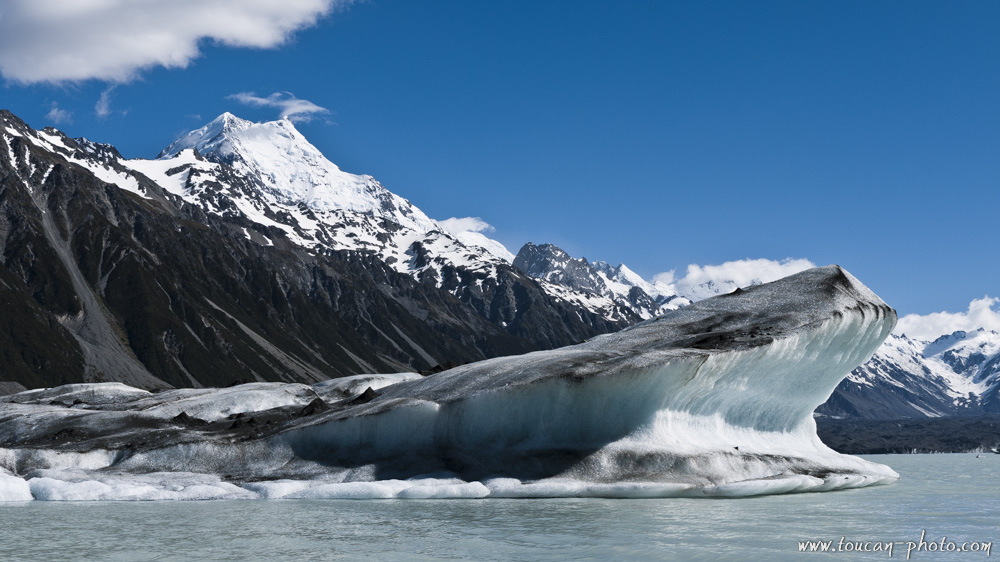 An iceberg, on the background the Aoraki/Mont Cook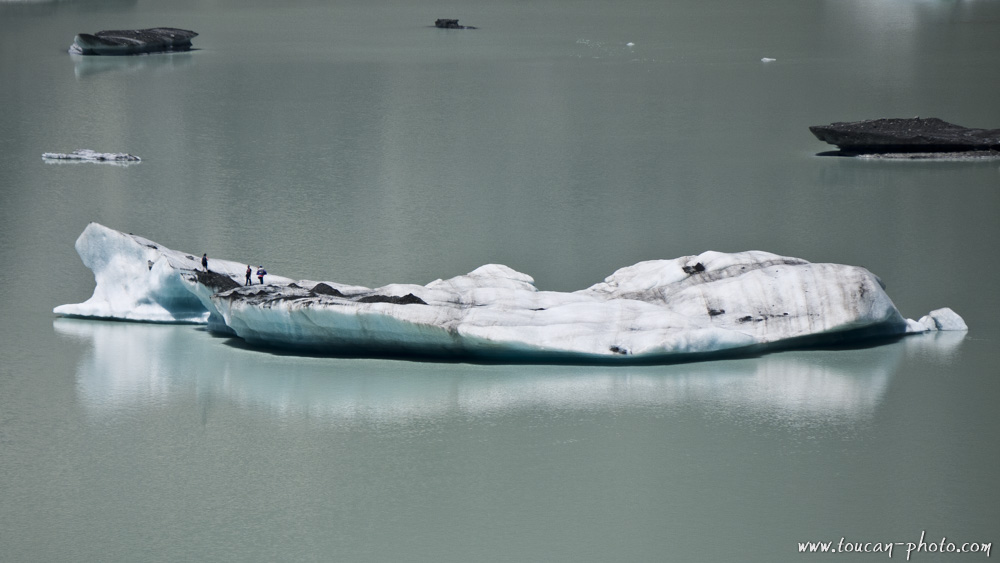 A walk that looks like a polar expedition
Color changes: white to gray:
Tasman Glacier, when sliding the mountain, is loading the black rock chunks snatched in the mountains. These black particles accumulate in the ice and will stay on board of the glaciers when they are floating in the lake. During the melting of the iceberg, the particles concentration increases, and changes the ice coloration.
Thus, a newborn iceberg will appear white, while an older iceberg would have a dull gray color.
At the end of melting, the particles of rock are giving a milky gray to the Tasman lake.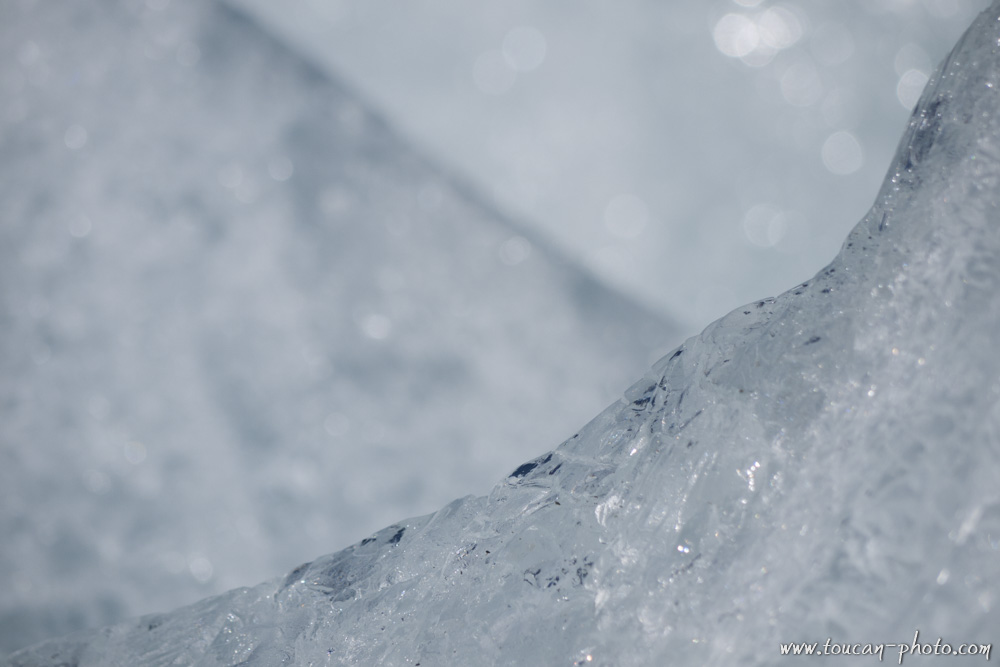 An apparently pure ice when melting…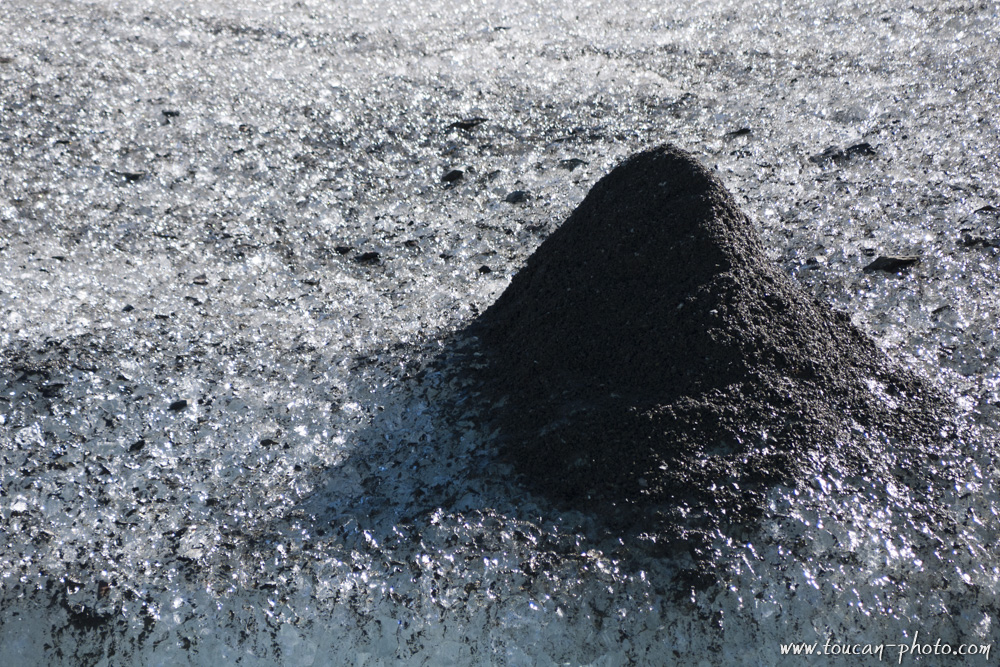 … can form strange particle clusters.
Color changes: gray to blue:
A river rises in Lake Tasman. This river carries particles of rock from the lake, which also give to the river the gray color.
As the rock particles have a higher density than water, they sink to the bottom of the Tasman River before the water flows into Lake Pukaki.
The water ice, when it arrives in the Pukaki Lake, is free from all impurity, and colors the lake water in an incredible turquoise blueman lake.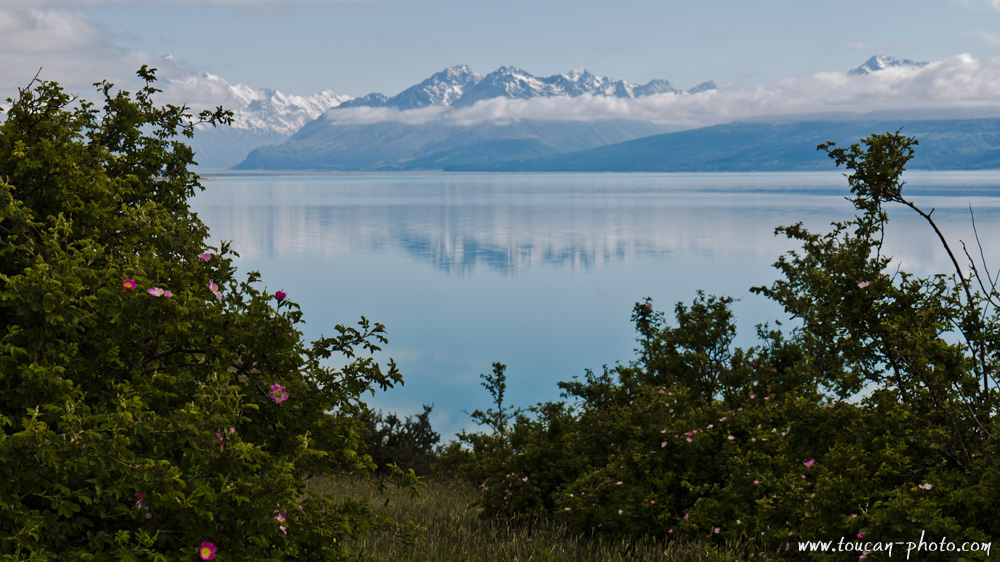 The pukaki lake early morning
Pukaki lake and turquoise water
And now?
Read the paper about the Kauris, the legendary trees of New-Zealand
See more pictures from New Zealand